Shop
Select the item from our curated product menu.
Customize
Personalize your selection with your logo and customized text.
Confirmation
Approve art proof to begin production on your order.
Shipping
Receive a notification with tracking link when your order has shipped.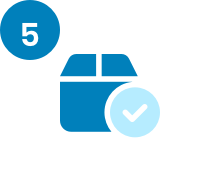 Delivery
Your order status will be updated when your order has been delivered.
Frequently Asked Questions
Still looking for help?
We are here to provide you with quality customer service. Please contact us at service@awardsthatwork.com to have a qualified representative contact and consult with you about your need.